If you are visiting our website, you might be asking the question, "Why should I want to invest or live in Krabi?"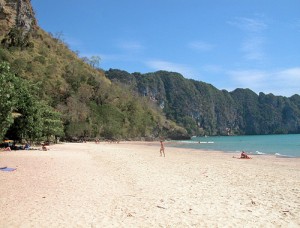 Krabi Province is home to some of the most striking scenery in Southeast Asia. From the enchanting islands of Phi Phi, to the white sand beaches of Koh Lanta, the area has become internationally known for its majestic beauty. The awe-inspiring limestone cliffs have been attracting the world's best climbers to Railey Beach, while tourists can now find four star hotels and be pampered in numerous spas. It is an understatement that Krabi has a lot to offer the visiting tourist.
But living in Krabi is not the same as holidaying here. In some ways it is even better. Relative to some of the other beach resort areas in Thailand, Krabi has some of the best infrastructure. The roads are in excellent condition and well maintained. The public water and electric supply are efficient. Even the outer islands of Phi Phi, Jum and Sriboya now receive mains electricity.
Krabi is known as a family destination. It is the type of place where you can walk down the street with your family and feel comfortable and safe. Crime is rare here. For those looking for the all-night entertainment zones, your are better off in Pattaya or Phuket, for Krabi offers a multitude of restaurants, bars and pubs that all age groups can enjoy.
Whether you are single, a couple or a family, it is hard to be bored here. The numerous islands offer many sunbathing retreats, scuba diving is one of the most popular pastimes, and kayaking through the caves and mangrove forests is an experience you will never forget. Hiking through the caves is another way to spend the day, whether at the famous Tiger Cave or other caves scattered throughout the province. If you are feeling even more adventurous, the cliffs of Railey beckon you for a challenge. Several national parks are homes to water falls and hot springs, including the popular Emerald Pool. A relaxing day at any of the numerous spas is the perfect antidote for your adventures, or just lounging by your pool strikes many as the ideal way to relax.
Clearly Krabi has much to offer for those who want to enjoy one of nature's unique treats in Southeast Asia. But from a more practical point of view, Why Krabi?
The international airport, with its recently completed second terminal, is opening the area up to a wider audience worldwide. The international flight list has expanded to more than ten destinations this year with more on the way. This can only be a bullish sign for investors in property and commercial enterprises.
Following in the footsteps of the airport are the Tesco-Lotus shopping mall, along with Makro and Big C. Several large international hospitals are in negotiations to purchase property here, and there is a small British curriculum international school. Soon, all the western conveniences will be located in the Krabi area.
Krabi isn't for everyone, and it doesn't try to be. It won't attempt to be the next Patong Beach or Pattaya, nor does it want to be. Krabi will continue to play on its strengths, its natural beauty, outdoor activities and clean, safe environment for families to enjoy.